A/V
Jack White and INSANE CLOWN POSSE Collaborate On An Album (Really!)
"Yo Shaggy, what you know 'bout Mozart?" "I don't know shit!" begins the greatest collaboration of our time, as indie darling Jack White has collaborated with our favorite punching bags, Insane Clown Posse. Spin has an article about the collaboration, and these next two paragraphs are so absurd, I had to paste them verbatim:
The record will be their interpretation of a lesser known Wolfgang Amadeus Mozart piece from 1782 called "Leck Mich Im Arsch," which is literally translated as "Lick me in the arse."

According to a press release, the 2011 version of "Leck Mich Im Arsch" marries "Mozart's melody and lyrics sung in operatic German with ICP's poignant lyrical addition in English and Jeff the B's monster-riffs." The B-side of the single is "Mountain Girl," an original composition, which has ICP's Violent J and Shaggy 2 Dope dropping verses about country life — shotgun weddings, meth addiction, and moonshine.
Third Man Records, White's boutique label, will be putting out a 7" of the track on September 13th. Those dying to hear it, can sample it below:
Here is a teaser video hyping the collabo: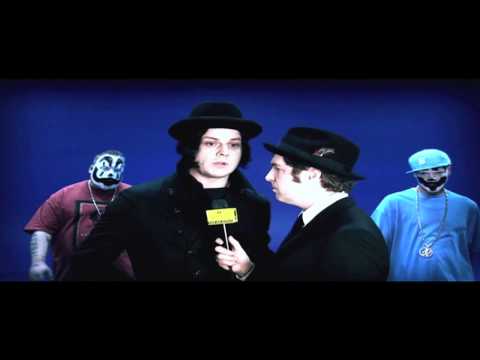 OTHER LINKS FROM ACROSS THE INTERNET